Worked WSC OUI Goldschmidt Diploma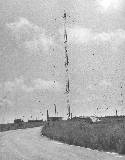 GERMANY
The German Amateur Radio Club Ortsverband Steinhude (DOK H35) issues this award to licensed radio amateurs and short wave listeners for contacts after 1 January 2015.
This award commemorates the first radio contact between Germany (Eilvese Wireless call sign OUI) and the United States of America (Tuckerton Wireless call sign WGG (licensed later as WSC) made on 14 October 1913.
The award shows QSL cards of DL100OUI and W2WSC/100 and the two historical Goldschmidt stations as they appeared in 1913. One hundred years later, these amateur radio stations made contact in October 2013. They exchanged the identical telegrams of greeting sent at opening of Eilvese Wireless between Kaiser Wilhelm II and US President Wilson. The award displays a historical picture of radio pioneers at Eilvese Wireless in 1914. Dr. Rudolf Goldschmidt the inventor of these Goldschmidt High Frequency Telegraphy stations is pictured in the background. This award has been accredited by DARC.

Requirements:

Contact the following stations:


a.
Confirmed amateur radio contacts with club stations DA0OUI and W2WSC
b. Three confirmed amateur radio contacts with German amateur radio stations whose suffixes begin with either letter O, letter U or letter I - in order to complete the call sign "OUI".
c. Three amateur radio contacts with US amateur radio stations whose suffixes begin with either letter W, letter S or letter C - in order to complete the call sign "WSC"
Example: for DL the following three call signs Example: for US, following three call signs
DL4

O

AS K1

W

U
DK2

U

I W2

S

UA
DG2

I

AU N9

C

IL

All modes and bands OK.


For the Diploma application, send log extract list of the required contacts.

LOTW and eQSL are accepted exclusively if submitted electronically via email to the award custodian:
DA0OUI@darc.de
.

The award is free of charge, the diploma is exclusively electronically sent as a PDF document in the format 210 x 297 via e-mail.

Award manager is Ronald Reimann, DL6AM, German Amateur Radio Club - OV Steinhude, PO Box 2214, D-31515 Wunstorf / Steinhude, Germany.
E-mail:
DA0OUI@darc.de